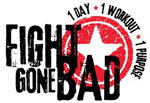 "Fight Gone Bad"
With a continuous running clock, 5 exercises, 1 minute each. Every rep counts as a point (For Rowing it is calories) 1 minute rest in bewtween rounds
3 Rounds of
Wall Ball (M-20#, W-16#)
SDL HP (M-75#, W-55#)
Box Jump (M-24", W-20")
Push Press (M-75#, W-55#)
Calorie Row
Post totals to comments
Here is a great video to watch… http://www.youtube.com/watch?v=1eeJS9Kmt04
Even if you do not want to participate in the workout, please come cheer the team on! Thanks again everyone for your support!
REMINDER….We are also having a "free" workout tomorrow at 11am. All fitness levels welcome!